Ortopedic devices and supplies
21.10.2022
DePuy Synthes, an orthopedic company of the Johnson & Johnson group, offers solutions for patients with a whole range of problems, from orthopedic and trauma to neurological. Thanks to this, it helps to heal and restore movement to millions of patients. The company designs, manufactures and distributes orthopedic devices and supplies including hip, knee, extremity, trauma, orthobiologics and operating room products.
Founded in 1895, DePuy Orthopaedics was the first commercial orthopaedics company in the U.S. Their long-standing commitment to innovation in patient care has helped them become a global leader in orthopaedic devices and supplies. Today, the DePuy Synthes Joint Reconstruction portfolio includes more than 200 products.
Components like knee implants are checked with laser scanning, because of the complex sculptured contours required for proper functioning.
As DePuy developed more complex, sculpted medical device components, implants, and prosthetics, it found its measurement capabilities were limited by the low point density and relatively slow speed of traditional touch probe technologies.
Because its products were intended for human patients, DePuy needed a dramatically higher density of point coverage to accurately capture the form and dimensions of these complex shapes, and the ability to compare them directly to CAD designs.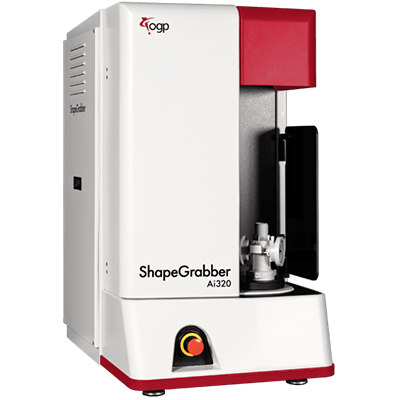 THE OGP SOLUTION
To obtain the high point density necessary for accurate measurements, DePuy selected a ShapeGrabber 3D laser scanning system. The ShapeGrabber solution proved to be faster and more versatile than other laser probe systems that DePuy Synthes evaluated, and the ShapeGrabber scanner was able to measure the complex, compound curves of DePuy parts quickly and accurately.
THE RESULTS
"WE MOVED TO A SHAPEGRABBER 3D LASER SCANNER, A MUCH FASTER AND MORE VERSATILE ALTERNATIVE."
Since choosing the ShapeGrabber system, DePuy has found that it can reconfigure the scanner quickly to accommodate parts of different sizes and can perform the quality assurance inspections it requires to ensure its low volume parts are properly formed and sized.
"For complete inspection of our anatomical implants, we opted for the touchless approach of laser scanning. Our first laser probe system was very slow and had limited function because it could only acquire one point at a time and could only measure diameters."